Browsing articles from "July, 2011"
When I was just a young (punk) kid growing up in Sanford, FL I loved listening to Punk music. One of my favorite bands, MxPx, had this song called, "Responsibility." The lyrics went, "Responsibility, what's that? Responsibility, no not quite, yet." This was my anthem growing up. I figured when I left the Central Florida area, left my small, local church I'd start thinking and worrying about responsibility. My Dad always told me, "When you have your own power bill I'm going to come over and leave all the lights on and open the fridge door and turn the air down to 72!" This was a joke to me, until I got my own place and started paying for all those things, now, I thank Jesus everyday that he doesn't come over and do that!
I've found the key to any growth or maturity is responsibility. Until you feel the urgency of responsibility, you are incapable of growing.
Be responsible for how things are in your life right now. Your city, family, job, savings, life is all because of you. The church in Sanford, FL called Church At The Gym is what it is, because of it's regular attenders. Take responsibility.
The words of legendary coach John Wooden ring true today, "Control the things we can control. If you try to change the things you can not control, then it will soon affect the things you can control." We need to accept responsibility and change the things we can. There is an infinite list of things we can not change, take responsibility, change things for the better.
"Be the change in the world, that you wish to see." – Ghandi
(Contributed by Jason Williams)
What's the first thing that comes to your mind when you hear DAV (Disabled American Veterans)? Veterans from WWII, Vietnam – old men in wheel chairs, maybe sixty, seventy years old, older? Well, I had the immense pleasure of attending a Wheelchair Rugby game, DAV vs Sanford River Rats and Team USA Armed Forces Good Will Ambassadors on Friday, July 8. I was rocked awake, shocked back to reality! These Disabled American Veterans are my age, MY AGE! Hello! Afghanistan, Iraq. It felt like a personal slap in my face, as it should have hit me a long time ago, but this is the moment for me, that it finally sank in. I am so completely humbled and honored to have been in the presence and to have watched our heroes and our youth, our local ball players, our good will ambassadors come together, strap themselves in a wheelchair and TRY to keep up with these amazing DAV wheelchair rugby players! Sanford's Palmetto Avenue Baptist Church hosted the game in their gym and their Pastor, Ron Williams, City of Sanford's Mayor, Jeff Triplett, and River Rat's GM, John Welton, watched from the sidelines as the Veterans, without breaks, exhausted most every ballplayer on the other teams! The Veterans were so kind as to occasionally backwards roll a ball through the goal line. What an awesome game to watch, full of energy, excitement from the players and the crowd, banging and clanging and clattering like you've never heard, but mostly a tug on your heart like you'll want time and again! You'll not want to miss this event should it come around again next year to become an annual City of Sanford, River Rats BaseBall, Team USA Armed Forces Good Will Ambassadors, and Disabled American Vets Wheelchair Rugby Event held at this local church in Sanford Florida!!
Written by: Sandy Adcox
(This article was first published in the Sanford Herald on July 24, 2011. Posted here with permission from the author.)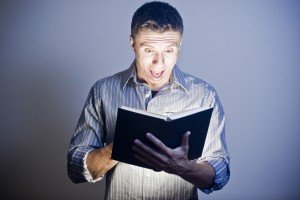 Do you want to get more out of your personal bible study time?  Have you ever wondered how it is that some Christians, pastors, or bible study leaders seem to be able to identify so much more truth in God's word?  Well, there's a three step process that can put you on a path to understanding and applying God's word to your life.  This will help you to be a doer of the word and not a hearer only (James 1:22).
Here are the three steps of inductive Bible study:
1). Observation: What does it say?
This first step is a simple one.  Read the text carefully a time or two in a Bible version that you can understand.  (There are many great versions and translations available.  The one that I use personally and recommend is the NET Bible.  If you want to know why I like this one best, ask me some time.)  As you read, look for the following things:
Are there any commands?
Are there any promises?
Are there any repeated words or phrases?
Are there any results or conclusions (look for therefore or so that)?
What is the main idea of the passage?
2). Interpretation: What does it mean?
This can be a challenging step, and it's the one that people sometimes fail to carry out correctly.  To perform this step, you may need to seek out a few Bible study tools (commentary, concordance, etc.).   But, don't get too intimidated at this step.  Simply, consider the following questions:
Are there any terms, words, or phrases that need to be defined?
How does the passage fit into the broader context of the chapter & book?
What was the author of this book trying to say?
What did the audience understand the author to have been saying?
3). Application: What does it mean to me?
Now, it is time to apply the timeless truth of the passage to life.  Though all of the Bible may not be written directly to us, it is certainly written for us.   And, we must ask a few questions to learn how this passage should change our lives:
What attitude does this passage instruct me to have?
What action does this passage instruct me to take?
What does this passage instruct me to believe?
What does this passage instruct me to avoid?
At this step of application, also look for the How and the Why.  In addition to telling us what to do, believe, and avoid, the Bible also frequently tells us how and why to apply the truth of the passage.  So, look for that.
Certainly, this is not an exhaustive guide, but it should be a great start to helping you learn more from your Bible study time.  So, try taking these steps sometime this week, and let me know how it goes.  And of course, feel free to ask me any questions that arise from your personal study of the Bible.
(Contributed by Jonathan Williams. This article was first posted in June 2010 on Jonathan's website.)
A lot of people often have questions about baptism, this blog is going to help clear those questions up and explain what baptism is.
Why get baptized?
1) To follow Jesus' example. (Mark 1:9)
2) Jesus told us to baptize and be baptized. (Matthew 28:19, 20)
3) Jesus baptized and made disciples. (John 4:1)
4) The early churches did it. (Romans 6:2-3, Ephesians 4:5)
What is Scriptural baptism?
1) Baptism doesn't save you.
2) It symbolizes Jesus' death, burial and resurrection. (I Corinthians 15:3-4, Colossians 2:12)
3) It illustrates my new life as a Christ follower. (II Corinthians 5:17, Romans 6:4)
This by no means is a conclusive list, but a good brief explanation. Our church is baptizing this weekend. Come out and join us at 10am to see it done live!
(Contributed by Jason Williams)

Sunday Recap
This last Sunday was a good Sunday. We had 99 in attendance and 2 saved. It was the first week of our Superheroes series and people loved taking pictures with Captain America! This series has a lot of potential to be a "game changer" for our church. This coming week we are interviewing a guy in our church who has recently felt called to be a cottage parent at a boys/girls ranch. We're praying that others will feel the call like him and take on a GOD sized dream for their lives.
The momentum we have built over the summer is amazing! God has continued to bless no matter what happens.
Coming Up Next Sunday
This coming Sunday is our BBQ and Baptism. There is a lot of excitement around it. Last month when we had our first BBQ and Baptism we had about 100, it was crazy! We are hoping for the same results!
Question of the Week
This last Sunday the Preacher told us about why Jesus is his favorite
Superhero. Could you give us the twelve reasons again?
MY FAVORITE SUPERHERO
THE REAL SUPERMAN, JESUS
Scripture Reading: John 21:25

Characteristics of a Super Hero

1. A Super Hero is extra-terrestrial.
– Jesus came down from heaven. (John 6:38)
2. A Super Hero has super human strength. (Luke 8:22-56)
a. Jesus had power over disasters. (V. 22-25)
b. Jesus had power over demons. (V. 26-40)
c. Jesus had power over disease. (V. 41-48)
d. Jesus had power over death. (V. 49-56)
3. A Super Hero has super human knowledge.
– Jesus knew what people were thinking. (Luke 6:8)
4. A Super Hero has super human presence.
– Jesus knew where people were. (John 1:48)
5. A Super Hero is respected by the masses.
– Jesus was so popular that He didn't have time to eat and rest. (Mark 6:30-31)
6. A Super Hero is humble in spirit.
– Jesus described Himself as "meek and lowly." (Matthew 11:29)
7. A Super Hero is morally good.
– Jesus was perfect. (II Corinthians 5:21)
8. A Super Hero does good.
– Jesus helped the poor, healed the broken, set the captives free, and opened the eyes of the blind. (Luke 4:18)
9. A Super Hero will attract enemies.
– Jesus was hated by the religious establishment. (John 11:45-48)
10. A Super Hero is fearless in the face of danger.
– Jesus started His ministry by upsetting the traditional religious system. (John 2:13-16)
11. A Super Hero gives himself to deliver others from evil.
– "Our Lord Jesus Christ who gave Himself for our sins that He might deliver us from this present evil age." (Galatians 1:3-4)
12. A Super Hero does death-defying feats.
– Jesus defied death by rising again from the grave. (Revelation 1:18)

Conclusion: Jesus is the greatest Superhero. Anything else is second best!
When you're in a relationship long enough, you can look back at it and kind of track its progression through various stages. In an ideal romantic relationship, couples tend to experience different types of attraction – physical, emotional, spiritual. Titles come with that too – girlfriend, wife, lover, mother of your children, friend. I was recently reminded that we approach God with titles too – healer, savior, refuge, father, friend, et cetera – but I was also challenged to consider what titles I have especially approached God with. I came up with a few – Savior, Lord, Father, Friend, Master, and Employer – in that order.
Coming to Christ, it's easy to be grateful and remember He's the One who saved you from your sins. This gratefulness leads you to address Him as "Lord" and afford him the loving respect and obedience He deserves. As I obeyed Him, I realized He is not just a Savior and wise Lord, but a loving Father who can be trusted. So I listened with gratefulness and joy to hear what my Father would say. Then I learned He could be my Friend – that I could dialogue back and forth with Him about any and everything.
Then somehow it went wrong.
Being involved with God to that extent, you get excited, you want to be more and more involved. Unfortunately, that can translate into more and more DOING – which invariably leads to burnout. So I started resenting God, forgetting God the Father and Friend, only seeing the Taskmaster who would not give me a break. This even clouded my vision of God the Savior. And when you forget where you've been saved from, you forget that your obedience TO God doesn't do anything FOR God. He doesn't NEED me, I'm not His employee, helping Him out for payments of His favor.
But the thing is, He wants our love. Out of a heart filled with true love for God will flow everything He wants from us – it is not the other way around. How do you refer to God? Who do you see Him as? And what does that mean for the way you relate to Him?
(Contributed by Chris Coultas)
I love infomercials! I know it's weird, but when I come across that random channel at night that has countless infomercials, I'm hooked! I've never bought anything, but I'm always impressed at the random stuff that they can sell! Then, I usually YouTube the parody version for a quick laugh.
My favorite infomercials scams are the ones that say "In just 30 minutes a day!" I was recently reading an article about tanning. If you tanned for 30 minutes a day for a week you would probably be a nice, light brown color. Your skin will adapt to that brown color in order not to BURN! Well, let's say you continued this trend and went out in the sun for 30 minutes for the next 6 months! Well, you would still be that nice shade of light brown. Your body would no longer need to adapt to the continued stimulation because your light brown tan is in place, and it is not getting any additional exposure. It's just getting the same 30 minutes which it is used to. If you wanted to get any darker, you will have to add more time to your tanning sessions.
(So, where am I going with this?)
Well, I'm tired of meeting Christians who think that a weekend service is going to make them a "Super Christian." Over time you will adapt to your mediocre Christian life. If we as Christians want to continue to grow, we must do exactly that, GROW. We grow by serving, telling others about Jesus, reading our Bibles, reading Christian books, intentionally having good conversation with those around us, and just continually trying to become more like Jesus.
If you feel the same way that you did 3 weeks, 3 months, or 3 years ago, it's time to try something new. Get out there and take a bigger bite!
(Contributed by Jason Williams)
This past week at Church At The GYM, Pastor Williams shared a message entitled, "From Generation to Generation: Making Sense of the Family Zoo." It was a very informative and challenging message for all of us who were there.
After the message, a few questions came up. Here they are along with our response.
This stuff was great. Where can I get more information on this topic?
Great question! We would like to recommend the book One Church, Four Generations by Gary L. McIntosh. It explains in great detail the differences between the Builders, Boomers, Busters, and Bridgers.  Understanding our generational bent will help us understand one another better and improve how we interact with each other.
I was listening carefully, but the conclusion went by so quickly that I didn't have a chance to write down all seven points. What were the concluding thoughts?
No problem. It happens. Here were those last few points…
Conclusion:  So how do we make sense of the family zoo?  Follow the teachings of Paul in Romans 12:10-18.

1. Love one another. V.10

2. Honor one another by deferring to one another. V.10

3. Seek for unity, not division. V.16

4. Put aside pride and be humble. V.16

5. Put away feelings of superiority over others. V.16

6. Respect what is good. V. 17

7. Be at peace with all people. V.18
So, there you have it. Our very first Sunday recap and response to your questions. Please keep texting in those questions that come up. Our number is 321.578.7744. We look forward to hearing from you!  And, don't forget to keep pointing people to our blog (http://www.churchatthegym.org/blog).

FWIW (For What It's Worth) fireworks are awesome. Seriously, I don't know if it's possible for someone not to like fireworks. I went to two events with two great display of fireworks this year. My favorite fireworks are probably the ones that explode, then explode again, and look like a scattering affect. Almost like they are afraid of the other fireworks!
As I watched the beautiful array of fireworks, I could not help but think of those whose lives are like fireworks. They go up with all the potential in the world, go BOOM, and look beautiful, and then they are gone. Zac Smith's story is a beautiful firework. A life well-lived.
The fireworks, while amazingly beautiful, also make me chuckle from time to time. Whoever is footing the bill for this thing puts thousands of dollars into it, and yet there are still dud fireworks. They shoot up into the sky and then fall right back down to earth, having never burst into a colorful display, and then some fireworks don't even go all the way up!
The Bible tells us that life is a vapor or a mist (James 4:14). It appears for a short time and disappears. It is like a firework. It goes up into the sky, and then it's done. Ultimately, whether or not people admire your life's work is up to you. Are you going to be a dud, or are you going to be a beautiful firework?
Like this blog post? Keep checking back here for more posts.
(Contributed by Jason Williams)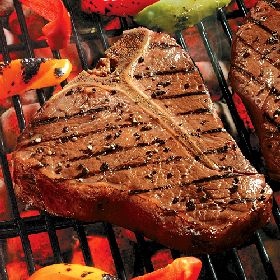 Put a nice steak from Outback, cooked medium, in front of me. I may not be hungry now, but give me enough time and I'm going to eat it.
So often we allow a temptation to be sat in front of us, because we are not desiring that thing at the moment. However, given enough time we will often fall prey to poor choices.
Watch and pray that you may not enter into temptation. The spirit indeed is willing, but the flesh is weak – Mark 14:38
Our flesh is weak. If we are going to make it in this life we need to get rid of our "stinkin' thinkin'" and replace it with good. The Bible tells us to overcome evil with good.
If you see something in your life that could cause you to mess up, get rid of it, and replace it with something positive!
(Contributed by Jason Williams)
Blog Categories
Upcoming Events

New Here?