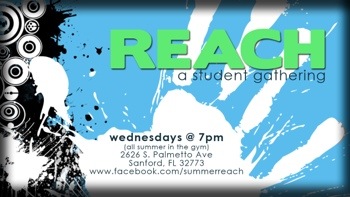 Week one of our new summer student gathering, REACH, was a great success! The student-led worship was off the hook. The preaching of God's Word met us where we were, and challenged us to REACH toward God in these next weeks. And, the small group session after it all allowed us to talk over the things we heard throughout the night and make a game plan to apply it to our lives.
Week two is right around the corner! We encourage the youth to invite their friends and family to join us this Wednesday at 7:00pm to worship God and get closer to Him through His word.
So? What are you waiting for? Go! REACH out to those around you, so they too can experience what God is going to do this summer.
Blog Categories
Upcoming Events

New Here?