Browsing articles in "Missions"
A Safe Arrival in Belize
Our team has safely arrived! After a bus ride from the church in Sanford, minimal wait times at the airports in Orlando and Miami, two plane rides, a customs check, and an "interesting" van ride to Belmopan, Belize (they'll have to explain this on testimony night), our team has arrived. It was smooth traveling, and everyone's baggage arrived, too.
The Work Goes On
As you can see from the picture gallery below, the work is in progress. Our team is putting on the roof of the church building. We previously paid for the block walls and had them laid so that they would be set and ready for our arrival. We're also putting in a bathroom for the church. While to us it may simply look like an out house, to the people of the community it may be the nicest bathroom around. On the worksite, everyone has found a job, and they're excitedly working. The conditions are rough with temperatures up near 100 degrees, but we are pleased to know that our work matters. The name and fame of the Lord will be increased because of this church building, and more Belzeans will come to know the Lord because of it. We are blessed to be partners with our fellow believers in Belize!
Keep Praying
Things are going smoothly right now, but the team would greatly appreciate your prayers. Please keep praying for the safety and success of the trip.
A Picture Gallery
Here are a few pictures that we've received so far from Belize:
Introducing… The $5 Faith Launch Initiative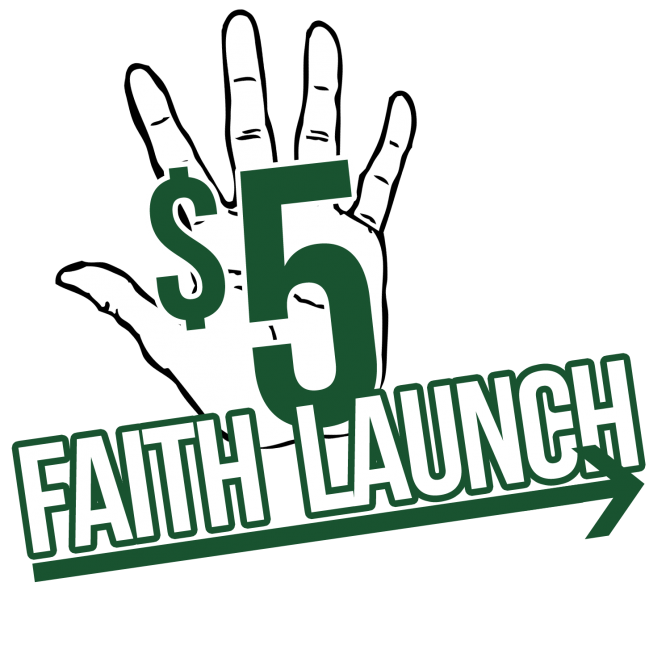 Every one of us has seen the "$5 Foot Long" commercial that Subway has used so effectively to promote their sub sandwiches.  Well, we are going to take a page out of their playbook to challenge all of the Christ Followers in our church to experience a "$5 Faith Launch" for the coming year to advance our mission work around the world.  Everyone in our church can be a part of this new faith adventure, and everyone should be a part.
For years, we have simply told our people to pray and ask God how much they should give to send the Gospel message to the many people across the globe who have never heard of Jesus Christ and His salvation.  This year, we are banding together with one heart and one goal, and that goal is for every believer in our fellowship to launch out by faith and give $5.00 more every week to missions than they gave last year.
There are some new Christ Followers in our church who would say, "But I haven't been giving anything to missions."  That's ok!  Now, is the time to start giving, and all we are asking you to give is $5.00 per week to get the Gospel to the unreached people groups of the world.  Most Americans waste more than $5.00 every week on cokes, candy, coffee, cookies, and chips.  We all do it!  Even here in Sanford, FL. Let's sacrifice a little of our physical "wants" so that we can help meet the spiritual "needs" of the world's poorest people.
Others of you in our church have been giving to missions for years, and you are giving quite a substantial amount at this time.  We are challenging you once again to step out by faith and trust God just a little bit more than you did last year.  We realize that it has been a sacrifice for you to increase your missions giving these last few years as we have all endured this economic crisis together.  But God has been faithful, and He has not rescinded the Great Commission.  So let's dig a little deeper, tighten our belts, and spearhead the "$5.00 Faith Launch" for the newer believers in our church.
We encourage you to participate in every event that is offered during this Missions Emphasis Weekend.  You will want to be a part of every activity and get to know the Taylor Family personally.
For the Sake of the Call,
The Pastoral Team
Missions Emphasis Weekend Schedule
o Friday @ 6:45pm: International Dinner 
       Everyone should bring a foreign food to share.
o Saturday @ 12:00pm: Ladies' Luncheon (At Patio Grill in Sanford)
o Saturday @ 6:00pm: Men's BBQ (At Carlos Duncan's Home, 2432 Mellonville Ave, Sanford)
       Men should bring sides and drinks.
o Sunday @ 12:30pm: BBQ & Baptism (At the Adcox's Home, 2845 Pine Way, Sanford)
       Everyone should bring sides and drinks.
Featuring Jonathan & Lexi Taylor, missionaries to Ecuador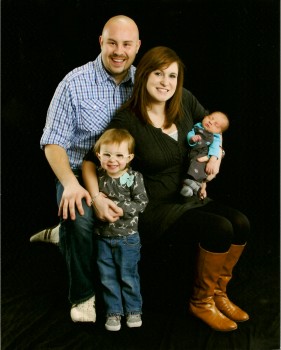 It is our wonderful privilege to host the Taylor Family, missionaries to Ecuador, during our Missions Emphasis Weekend. The Taylors are on deputation raising support to go as TEAM missionaries of the Baptist Bible Fellowship. For the second year in a row, we will be partnering with an MK, that is a missionary's kid, as Lexi Taylor is the daughter of Tony and Joy Anzalone, veteran missionaries to Ecuador. Jonathan and Lexi will be taking their children Adrienne (2 ½ yrs. old) and Crosby (3 mos. old) to South America to make disciples, train nationals, & plant churches.
It is our desire to add them to our missionary family this Sunday by supporting them financially on a monthly basis. But, in order to do that, we must have the participation of every member of our church family. Really, it is a matter of increasing our faith. If our faith in God and His ability to supply our needs is increased, then our giving to reach those who are not yet Christ Followers around the world will be increased as well. Please plan to be a part of every special event this weekend so that you can get to know this sweet, young couple who has "abandoned it all for the sake of the call"!
Be A Part of the Missions Emphasis Weekend Activities:
o Friday @ 6:45pm: International Dinner
       Everyone should bring a foreign food to share.
o Saturday @ 12:00pm: Ladies' Luncheon (At Patio Grill in Sanford)
o Saturday @6:00pm: Men's BBQ (At Carlos Duncan's Home, 2432 Mellonville Ave, Sanford)
       Men should bring sides and drinks.
o Sunday @ 12:30pm: BBQ & Baptism (At the Adcox's Home, 2845 Pine Way, Sanford)
       Everyone should bring sides and drinks.
Missions Emphasis Weekend is March 30-April 1
We invite you to take part in this year's Missions Emphasis Weekend. It's this coming week! Our special missionary guest for the weekend is Nathan Foltz, missionary to Tanzania. Here are some of the events that we encourage you to be a part of during the weekend:
– International Dinner 6:45pm on Friday Night (March 30)
        Pick an international region and bring an international food to share.
Bill Simpson's Class – Asia
Dave Schnelle's & Nick Williams' Class – Africa
Youth Group & Don Ador – USA
Don Bodin's Class & Carlos Duncan's Class – Australia
Jane Unsworth's Group – Central & South America
Victoria Lemois' Group – Caribbean
Teresa Hansen's Group – Europe
– Ladies Luncheon (Patio Grill) 11:30am on Saturday (March 31)

– Men's BBQ (Shane Stewart's House) 5:00pm on Saturday (March 31)
This will be held at 250 Art Lane, Sanford, FL 32773
The church will provide the meant. Men should bring sides & drinks.
– Faith Promise Commitment Sunday Sunday Morning (April 1)

Rick Biven is here in Sanford!
Did you know that our missionary to Mexico, Rick Biven, will be our special guest speaker on Sunday, February 19? He has been staying here in Sanford, FL this winter, and he has set aside this special Sunday to be with us.  This is an excellent opportunity to hear an update regarding what God is doing in Mexico.  It is pretty awesome to know that our church has had a part in the spread of the message of Jesus all around the world!
Here is his 2012 Ministry Video. Check it out!
27 Do not withhold good from those who deserve it
when it's in your power to help them.
28 If you can help your neighbor now, don't say,
"Come back tomorrow, and then I'll help you."

Proverbs 3:27, 28
A principle our church runs on is helping those who we can help. The sad reality is that we cannot help everyone in the world, but those whom we can help WE ARE GOING TO HELP! Part of our philosophy at Church At The Gym is to live a life of purpose, to intentionally live on mission and help those around us.
If you are part of our local, faith community, we want to challenge you to go out on your own and help those around you. CATG holds special projects through out the year, but generosity is not something we turn on and turn off. It is who we are. Take your generosity with you everywhere you go. Live a generous life!
(Contributed by Jason Williams)
Businesses love to boast about their mission and mission statement. Whether it is to be the best cell phone carrier in the world or whether it is to provide the best sandwich in all of Sanford, Florida. If our mission is unclear, it will make it impossible for us to gauge whether or not we are doing a good job.
Our mission at Church At The Gym is simple we want to make Jesus famous. This is acted out differently in everyone's life. Sometimes this will take us to Alabama to help with tornado relief efforts. Other times it will lead us to Guatemala to provide people with a house and a place of worship. Our mission challenges us to live differently at work, at home and in anything else we do. Our mission is not something we "turn on" and "turn off" like a toaster. It is something that compels us to live differently every day.
We challenge you to join us in our mission of making Jesus famous to the world.
(Contributed by: Jason Williams)
Several tornadoes touched down in five states across the South, on Wednesday, April 27. The storms caused widespread destruction overnight.  Over 300 lives were claimed. Thousands of homes and businesses have been destroyed.
Among the hardest hit areas is Tuscaloosa, Al. There have been over 100 confirmed deaths in the state, and that number is expected to rise. The people are in desperate need, and Church At The GYM is sending help.
On Thursday, May 5,  Church At The GYM will send a Disaster Relief Team and a load of supplies to the storm victims in Alabama. The load will included food, water and other necessities.
You can help us in three ways:
PRAY
First, you should pray for the people affected by the devastating tornados, and then, you can join us in praying for our Disaster Relief Team as they travel and serve in Alabama.
GIVE
Click the donate button to give online now!
In addition to giving financially to support our efforts, you can also contribute any of these items:
Baby Food, Diapers, Baby Wipes, Formula, Underwear, Feminine Products, Flash Lights, Batteries, Lanterns, Snack Foods, Suitcases, Plastic Storage Containers, Moving Boxes, Gift Cards (Wal-mart), & Medicine (over-the-counter)
GO
You are invited to join us on the trip to Alabama to serve the affected communities directly. We leave this Thursday and return on Saturday. For more details, call 407-323-1583.
Hello everyone!
As you have seen from our Belize 2011 highlight video, we had a wonderful time serving and being a blessing in Belize.  Recently, we have received several thank you notes from our missionaries in the country.  And, we figured we'd share them with you.  So, here they are…
From Bill Smith, our missionary at Bullet Tree Church
So hard to put into words and express what a blessing and joy it was to have you personally here with us this week! This whole trip and time together was all about expressing love one toward one another and that is exactly what you did every second of the trip.  You showed it to me, to the people of Bullet Tree BC, the people of Valley BC, to the people on your own team, and to my family, especially Abby and Micah.  THANKS for loving on my kids!  And I don't mean just the gifts and money but more importantly, the time, love, and attention you personally gave them.  That is worth so much more than things!

It almost goes with out saying that anytime you guys want to come back it word be our honor and privilege to host you and your dear people again.  I know you have many missionary families throughout this world that you support and that need your help too, so we will patiently wait our turn.  Just know, that our motivation is not another building or sidewalk (don't get me wrong we are most grateful for both) but our motivation is that we would just love to hangout and enjoy the fellowship of our special friends at your church once again!

Hope you are able to catch your breath and get a little rest….Please give our love to Pastor Ron and to Mrs. Shirley, Don, Yvonne, Jane, Eric, Cody, Zach, Yvonne, Tammi, and Midge!  We already miss you all!  Most of all say thanks to all the dear people at PABC who made this trip possible!  Hope to talk again soon.

All our Love,

Bill, Rhonda, Abby & Micah
From Ben, the future pastor of Bullet Tree Church:
Hello friends.  It was a blessing this past week to have you here with us.  Thank you for all the hard work you all did for us.  We are very blessed by the new building you all gave us.  The kids will really enjoy it.  Thank you for the money you gave me too.  Thank you also for all the meals and for taking me to Xunantunich and Five Sisters Falls.  I so enjoyed the week and your sweet fellowship.

Hope to see you all again soon. Please give my thanks to everyone who came.  I will have you all in my prayers!   I love you in Jesus.

Your Friend,

Ben
From Dan Weaver, our missionary in the Valley of Peace:
Thanks again so much for all that you and your people do for us and our ministry here in Belize.  I truly enjoyed myself at the conference. Your people are so genuine and loving.  The team that came back to Belize with me was great, as always.  Your people are always so prepared and so easy to have.  Jonathan did a great job. The building in Bullet Tree looks great.

There are so many things I want to thank you and your people for.   Thanks for…Having me in for the conference and taking such good care of me while I was there…The gracious love offering… The fishing trip…  Thanks for all the laughs… Thanks for sending the team… Thanks for providing the funds for the building the building in Bullet Tree… Thanks for the financial gift given to Vicki and me before the team left… Thanks for your faithfulness each month with the MANNA Feeding Center.

I could go on and on and on. Let me just say this, "Thanks for loving us, man." You guys are the greatest.

All for Him,

Dan Weaver
Here's is the highlight video from our missions trip to Belize. We were truly blessed to bless. We built a Sunday School building at Bullet Tree Baptist, and we got to love on out missionaries. Thanks for the support and prayers. We're already beginning talk about how we can return next year…you should come!
Blog Categories
Upcoming Events

New Here?